Building Real Estate Leads Through Word-of-Mouth Referrals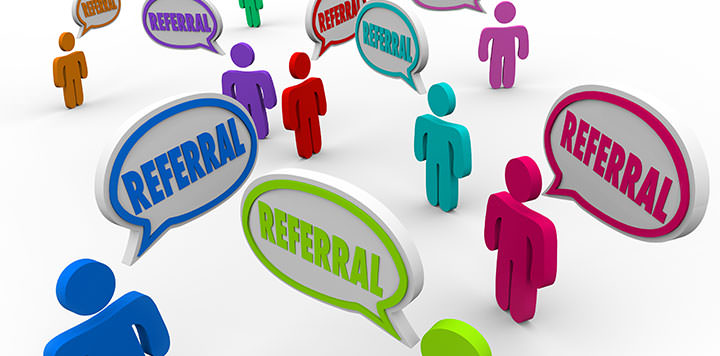 where to buy abortion pill uk
abortion
pill
online
The most powerful advertising and marketing tools we have at our disposal are word-of-mouth referrals. Unfortunately, they're the hardest to control. You can do a great job for hundreds of clients, but how do you make sure those clients tell their friends?
Word of mouth referrals begin by having a name that people know, remember and trust. Therefore, continued communication is needed to encourage relationship building that leads to successful word of mouth marketing.
Here a few tips to help you increase your personal referrals and start building more leads for your real estate business.
Avoid negative publicity
Customer satisfaction is the key for your clients to spread the word about you through word of mouth advertising. Your real estate business will gain strength and increase business if you pay strict attention to this detail.
Always make sure a client finishes a deal happy and try to work through any problems before the relationship is severed.
Some difficult business relationships simply cannot be appeased, but most can. Don't let an unhappy client walk away without giving them your best effort.
Collect testimonials from happy clients
Create your own word-of-mouth referrals by asking past clients for testimonials about your ability, service and follow through. Post these testimonials on your website or include quotes from them on your direct mail programs or newspaper display advertising.
Testimonials help build trust in your business and allow prospective clients to view you the way your other happy clients see you.
Simply ask for referrals
One of the easiest ways to obtain referrals from clients is to simply ask for them. If you're a new agent, don't be afraid to ask a client with whom you have a good relationship if they wouldn't mind mentioning your business and services to a few friends.
When you and the client are on good standing and get along well, they'd probably be happy to help out. It reinforces the need to provide clients first class service throughout the home buying process.
Offer incentives and rewards
The key to generating qualified referrals on a consistent basis is to have a system in place that you use each and every time. It's also very important to reward customers who send you referrals.
If you get a referral from a past client, always thank them formally with a nice note and even a small gift like a dinner certificate for two, a bottle of wine, or a small painting for their home.
Always follow up
Keeping the client informed along the process of selling or buying process goes a long way in the communication process.
Never leave a real estate deal right after the papers have been signed. Always follow up with a client a month or two after the deal is done and even a year after the sale. Let them know that you sincerely care about their purchase and thank them again for choosing you as an agent. It would also be of value to include a brief survey, seeking honest feedback about the overall client experience and your role in it.
Many realtors feel that they don't have the time to call their clients or regular basis. An automated monthly newsletter service such as News 4 Realty solves this problem for you.
When your marketing and sales process is enhanced with great, informative communication, your clients will feel good about referring you to their friends and relatives. Their personal testimonials about how well you treated them and how you helped them obtain their dream come true, is the best word of mouth advertising your real estate business will ever get.
Use News 4 Realty monthly newsletter to cultivate word of mouth advertising through constant communication with your clients and you will go a long way to expanding your realty business.